Early in Career Programme
In 2021, the GHSL decided to introduce a new professional development opportunity for Early in Career (EiC) H&S practitioners in addition to our existing forums.
Partnering with IMPAC, the GHSL piloted a Early in Careers (EiC) Programme, designed to help new H&S practitioners build core H&S knowledge using a structured learning and workshop approach.
The EiC pilot programme kicked off in April 2021 with 23 attendees representing 16 different public sector agencies and crown entities. Due to popular demand, we were able to offer a 2022 EiC programme with 28 attendees.
This year we are excited to offer a 2023 EiC programme facilitated once again by IMPAC. Bookings will be open from 1st May, or contact us directly and we will be able to pre-register you.
About the Programme
This programme consists of four workshop modules which are tailored to recognise EiC H&S practitioners specific learning needs. Each workshop covers a stand-alone topic, with all modules cumulatively providing a solid foundation of learning for all attendees. Check out our flyer. [PDF, 2.4 MB]
Overall, the aims of our workshops are to:
Build core H&S capability and application.
Provide linkages to other scheduled workshops.
Be practical, engaging, and useful to apply back in the office or onsite.
Supports cross agency collaboration and connections.
EIC Learning Modules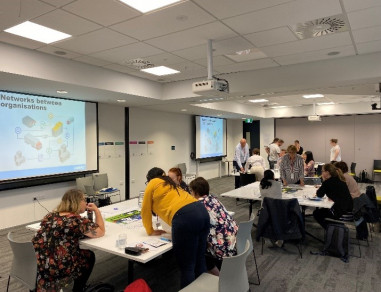 Once every six weeks, each of our workshop modules will cover a different core H&S topic.
IMPAC will facilitate each three-hour workshop which will include a range of interactive activities, discussions, practical exercises, and opportunity to network.
Each workshop module will provide a general understanding of the topic, its importance, the risks/impacts associated for the organisation or workforce.
At the end of the workshop, the EiC practitioner will be able to apply their learning in a useful way back in the office, or onsite, supported by resources supplied at the workshops. Check out our one page flyer [PDF, 2.4 MB] or accessible text only word document. [DOCX, 16 KB]
---
Who can attend?
Our EiC Programme is designed for and aimed at H&S practitioners who are starting their careers in roles such as graduates, co-ordinators, administrators, new advisers or H&S Reps who want to develop their H&S knowledge further. However, anyone can attend from public sector or state enterprise agencies.
Cost to attend?
The cost to attend is $1,165* +GST per attendee (For all four workshop modules).

*Note – We need the minimum of 18 attendees for this programme to run. Please contact us it you would like to discuss running this programme outside Wellington for your agency, however, minimum numbers are required.
---
What's in it for me?
"The four IMPAC courses were engaging, practical and informative. I feel more confident and better equipped with Health and Safety knowledge throughout the year. I have been able to apply the knowledge I received from the courses to the projects that I am contributing to, and I can understand the tasks that I am working on in a broader perspective."
- Theary Thong, Health Safety and Wellbeing Coordinator for MPI, Oct 2021
---
2023 Programme Dates
Date

Location/Time

Module Order/Topic:

Learning outcomes:

Wednesday, 5 July 2023

Wellington
1.00 pm - 4.00pm

Module 1 - Health & Safety Risk Fundamentals
Learners will gain an understanding of core H&S concepts including hazard/harm/risk/risk factors/risk controls.

By the end of this session the attendees will be able to build an H&S risk profile using both a proactive and reactive approach.

Wednesday, 16 August 2023

Wellington
1.00 pm - 4.00 pm

Module 2 - Worker Engagement, Participation and Representation
Learners will gain a greater understanding on how to engage key stakeholders and facilitate meaningful participation and representation in an H&S context.

By the end of this session attendees will be able to gather meaningful information relative to their workforce whilst having awareness of the role culture and communication plays in achieving tangible workplace outcomes.

Wednesday, 27 September 2023

Wellington
1.00 pm - 4.00 pm

Module 3 - Working with other PCBU's
Learners will gain an understanding on the legal principles that underpin the overlapping duties to consult, cooperate and coordinate.

By the end of this session attendees will be able to demonstrate an understanding of PCBU relationships within their work, recognising the drivers of 'Control and Influence'.

Wednesday, 8 November 2023

Wellington
1.00pm - 4.00 pm

Module 4 -Reporting and Measuring Performance Learners will gain a greater understanding of performance indicators and their relationship to workplace risk.

By the end of this session the attendees will be able to link reporting duties and performance measures into a risk management framework.
The preferred option for delivery of these workshops is in person, however, if your agency would like to run an online- inhouse programme please contact us.

Booking your place
To book yourself or a staff member, please contact the GHSL directly at ghsl@mpi.govt.nz. All our bookings require the following attendee details (Name, Position, Cost Centre, Email and Phone details).
For further information or enquires contact:
Debbie Bridge, Principal Adviser, Workforce Capability.

Deborah.Bridge@mpi.govt.nz

0800 HS Lead (0800 47 5323)