GHSL Update November 2017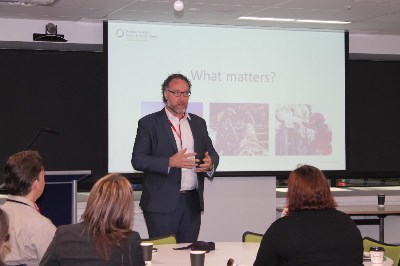 Thank you to everyone who attended our practitioners' session on 17 October; we really appreciated your involvement in our first official event.
We hope you found the Safety II session with Francois Barton from the Business Leaders' Health and Safety Forum useful and interesting, and took some ideas or discussion points back to your teams. It was also terrific to have presentations led by MSD, Police, Ministry of Justice and Corrections.
Bow Tie sessions - December 2017
We are already in the process of planning our next session; we are looking at working with IMPAC to put together some sessions around the Bow Tie methodology, and a practical application of the methodology to one or more sector risks.
We will be sending out more information and invitations around this session soon. Based on feedback, this will be a highly useful session.
Strategy and 2018 work programme approved
Last week the Chief Executives' Leadership Group endorsed our strategy and work programme for the coming year.
The work programme is ambitious but we think it creates some great opportunities for us to really engage on health and safety, both individually within our agencies, and collectively by collaborating on some of the most critical issues across the public service.
We would like to thank everyone we've spoken to over the last few months for all the valuable feedback and suggestions that have gone into the formation of the strategy and work programme.
WorkSafe accepts enforceable undertaking by Zespri
On 19 September, WorkSafe accepted an enforceable undertaking by Zespri International Limited, after the death of a worker on a quad bike in May 2016.
WorkSafe does not generally agree to an enforceable undertaking where a fatality has occurred, so we have included a link to the case on the WorkSafe website which is well worth a read.
Zespri Enforceable Undertaking(external link)
SafePlus upcoming sessions – November 2017
In conjunction with WorkSafe, we are running four sessions over the next few weeks on the new safety toolkit, SafePlus. Many of you have already booked to attend one of the four briefing sessions.
Malcolm MacMillian, SafePlus Programme Manager will be running the sessions, and will give those attending some background on how SafePlus was developed and how it can benefit our agencies.
As Government Health and Safety Lead we are encouraging the sector to adopt SafePlus, so we can develop a consistent approach to assessing and benchmarking health and safety practices across the public service.
The sessions will take place here at Department of Corrections. If you haven't already RSVP'd to a session please email kate.nicholls@corrections.govt.nz and Kate will give you details on the session days and times.
Health and Safety Summer Intern Programme
We had over 70 applicants for our health and safety summer intern programme from around New Zealand.
We have worked with the ten agencies who expressed interest in being part of the programme, and have appointed interns to nine of the agencies so far.
The interns were of great calibre and will begin their employment at the end of November, with a shared induction here at the Department of Corrections.
Over the course of their internship we are organising several visits to frontline sites within Police, Fire and Emergency and Corrections, as well as WorkSafe, so the interns are offered a broad picture of how health and safety is applied and regulated across the public sector. We look forward to updating you on the programme, and hearing how the interns are faring from those agencies involved.