GHSL Update December 2017
Welcome to our last update of 2017. It's been a busy time since we first launched in September.
Upcoming events for 2018
Chief executives
Arrangements are being finalised by the Business Leaders Health and Safety Forum to mark our 35 government sector agencies joining the forum.
The Minister of Workplace Relations and Safety, Hon Iain Lees-Galloway, will host an event at Parliament to recognise this important step. The date is 14 February 2018. Invitations will be sent to chief executives by the forum shortly.
Brendan Boyle, Chief Executive of the Ministry of Social Development, will host a breakfast session for chief executives on 22 March 2018.
Brendan will speak about MSD's response to the Ashburton incident. Nicole Rosie, Chief Executive of WorkSafe, will also present at the breakfast on New Zealand's health and safety performance. Invitations will be sent to chief executives this week.
Executives and health & safety practitioners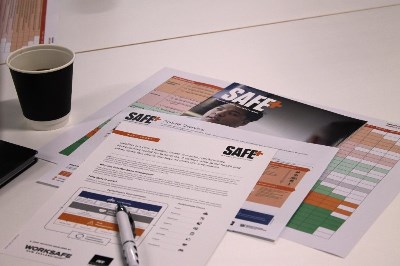 Thank you to everyone who attended sessions in November on SafePlus with Malcolm MacMillan from Worksafe. The feedback on the sessions was very positive both from agencies and Worksafe.
We will keep you updated with ongoing developments in this area, but here is a link to some useful information on SafePlus for those who weren't able to attend the sessions.
A number of agencies asked what SafePlus would mean for ACC's programmes such as the Partnership Programme.
We've been in touch with ACC and are working with them on a possible session in the New Year where they would brief us on what the future could look like.
We're also working on a session on employee engagement for the New Year.
We plan to develop a half day workshop with unions and other stakeholders to explore what good practice looks like and how to maximise the participation of employees in health and safety.
We aim to set some dates for these sessions before the end of the year.
International trends in public sector health and safety
We've found the latest initiatives coming out of the UK Civil Service on health and wellbeing very interesting and relevant to us here in New Zealand.
The UK Civil Service (CS) makes up roughly 8% of the wider public sector and broadly correlates to the New Zealand Public Service. It employs some 391,000 staff.
The CS has established an equivalent functional lead to ours, albeit with a slightly narrower focus. Jonathan Jones is the Health & Wellbeing Champion and he has been driving campaigns across the service on health and wellbeing initiatives. You can check out his blog here(external link).
A major focus of the Civil Service's work is mental health. The Prime Minister recently commissioned a report into mental health at work (Thriving at Work(external link)). Mental health has already been the major focus of the Health & Wellbeing Champion; there has been a toolkit for managers developed as well as a network of Mental Health First Aiders (a common concept in industry in the UK). They are staff who are trained and selected to help with mental health issues for their colleagues much the same as general First Aiders do for physical injuries.
Mental health will also be a focus in our work programme for. No doubt we will be looking to comparable international jurisdictions such as the CS, as well as the good work done by many agencies in New Zealand for inspiration and key areas to work on.
Resourcing the Government Health and Safety Lead
Interviews are underway for the role of Government Chief Adviser as well as four other roles to support the sector.
We hope to have the roles filled by the New Year so we can start digging into our work programme further, and look forward to updating you on these appointments.
Health and Safety Summer Intern Programme
Health and safety interns have begun at nine government agencies. They began their journey with an introduction to the sector with Ray Smith. Ray spoke to them about health and safety in the sector and the importance that he places on it as a chief executive.
Feedback from the interns and their agencies so far has been very positive and the initiative has attracted a lot of attention outside the sector as an innovative programme to develop the workforce.
The interns undertook their first off-site experience today by visiting Rimutaka Prison and Upper Hutt Community Corrections to learn about the unique risks managed by Corrections. This will include the health and safety of prisoners and staff in prison housing units, on prison industry sites and for staff working at Community Corrections sites.
The interns will also visit the Ministry of Education, NZ Police, Fire and Emergency and Worksafe in the New Year to get a broad view of the risks across the state sector and how they are regulated.
Chief Custodial Officer Neil Beales, shows the interns around the Trade Training workshops at Rimutaka Prison, where prisoners are studying trade skills with Whitireia.
Below you will see one of three graphics we have created for your agency to use as part of your holiday communications.
There are three different graphics to choose from, and three different resolutions which will suit different purposes. These have been sent to each agency's communication teams and/or lead health and safety practitioner.
Thank you all for your support over the last few months. It's been a privilege to work with so many of you in establishing the functional lead. Have a safe and happy holiday season. Please take care of yourselves on the road, in the sun and on the water. We look forward to catching up with you in the New Year.