GHSL Update June 2018
Can you believe we are almost half way through the year? It's been an extremely busy but rewarding six months for the Government Health and Safety Lead, and the pace looks set to continue through to the end of the year.
Building on the Unleashing the Power of Engagement conference
A big thank you for your support at our worker engagement conference on 10 May at Te Papa. It was a fantastic day and the feedback we have received has been really positive.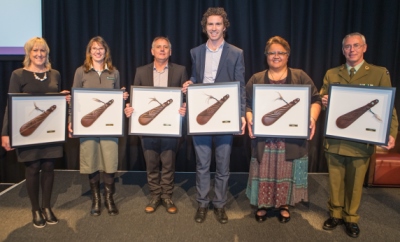 Ray has since written to the chief executives of your agencies, suggesting that we maintain the momentum of the conference by building on the excellent material that NZDF has created in the area of wellbeing and mental health. There's an opportunity for all of us to make use of a generic version of this material and make a collective effort in this area during Mental Health Awareness Week (8-14 October). We hope that you will back us in this initiative and your agencies will join us at a launch conference for the sector resources on 28 August.
If you haven't let us know if your agency would like to be a part of the launch please contact kate.nicholls@corrections.govt.nz by Monday 25 June.
Health and Safety Lead website
Thanks to the generous sponsorship of ACC and WorkSafe New Zealand our new website has been launched. It's a place where we can collect and make resources available for the sector, promote your good new stories and the various events and professional development opportunities available for agencies.
We really want to make this site useful and engaging for everyone. If your health and safety team have any ideas for content, initiatives they would like profiled or vacancies to promote, please contact govthealthandsafety@corrections.govt.nz.
Take a look at the new website here.(external link)
2018 Safeguard Awards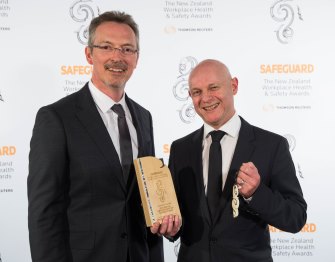 The GHSL had two entries in the Safeguard New Zealand Workplace Health and Safety Awards this year.
While our intern programme didn't walk away with the top prize, Ray Smith was awarded Leader of the Year.

The judging panel recognised both the work Corrections has done to improve the health, safety and wellbeing of its staff, the public and the people in its care, as well as the progress the Government Health and Safety Lead has made so far across the sector.
ACC – Habitatwork package
ACC would like to know how its Habitatwork package (external link)is being used and if it is still relevant to the sector.
If you are interested in working with them on a potential review of the programme you can contact Shirlene.Vautier@acc.co.nz with your expression of interest.