Mentally Healthy Work Hub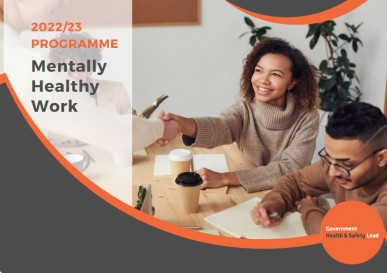 We will soon be launching our 2022/23 Programme Plan. This outlines our overarching goal of supporting public sector leaders and practitioners to be motivated and equipped to create mentally healthy work and workplaces where workers are psychologically protected and their wellbeing is prioritised. The 2022/23 programme has a strong focus on building capability across several tiers, including practitioners, H&S and HR managers, and senior leaders. This recognises that mentally healthy work is created and enabled across several layers of an agency. The key objectives are:


practitioners have sufficient knowledge and capability to

apply

good practice to their work

H&S

and HR

Managers understand the desired system components and can

lead and support

practitioners

senior leaders

enable and drive

the required system-level changes for a mentally healthy workplace and work

The Mentally Healthy Work (MHW) Development Programme is a capability-build programme to lift psychological health and safety capability across the public sector. The focus of the programme is to build core literacy and equip agencies with sufficient theoretical knowledge to apply to their work. Each cohort is supported by either a built-in forum (H&S/HR managers & Officers) or a separate community of practice (practitioners) to discuss the application and operationalisation of key concepts. There are three key streams for:
practitioners (micro-credentialed through tertiary provider)

H&S and HR managers (built in to quarterly Leaders Forum)

Chief Executives and Officers (built in to quarterly Senior Leaders Forum)

Recognising the time constraints placed on leaders/managers and Chief Executives/officers, the Mentally Healthy Work Development Programme sessions for these groups and the respective Leaders Forums are combined and held in quarterly sessions. Each cohort will first undergo a 30-60 minute knowledge-build session as part of the Mentally Healthy Work Development Programme, followed by a 30-60 minute forum discussion to share ideas, insights and challenges in practice in a supportive peer-lead forum.
H&S and HR Leaders:

This forum is hosted by the Chief Safety & Wellbeing Officer, Department of Corrections.

Senior Leaders / Officers: T

he forum is hosted by the Business Leaders' Health and Safety Forum and Jeremy Lightfoot (Chief Executive, Department of Corrections) with support from WorkSafe New Zealand.

The Mentally Healthy Work Practitioners' Community of Practice is a forum for practitioners who lead or support their agency's efforts relating to psychosocial risk management/mentally healthy work. This is a forum to share challenges, ideas, and insights from your work and discuss current thinking in the field / concepts learnt from the Mentally Healthy Work Development Programme.

The GHSL has a number of guidance tools to support agencies and will be releasing further (more targeted) resources later this year. This includes what a good 'system' consists of to enable mentally healthy work, tools and resources for workers and managers, and case studies from other agencies. Please feel free to get in touch and let us what resources and tools would be helpful for your agency.
Check out our latest guide:

WorkSafe recognises mental health is an important part of the working environment, and organisations have a responsibility under the Health and Safety at Work Act 2015 to ensure they are providing a workplace which looks after the mental health of staff. WorkSafe has a responsibility to monitor and help improve mental health in the workplace and have an a Mentally Healthy Work team to support this focus. Learn about WorkSafe's focus on mental health at work here(external link).