Summer Internship Programme

The award winning GHSL Summer Internship programme is running into its sixth year and runs from mid to late November to the end of February. The programme was designed to build a pipeline of future passionate health, safety, and wellbeing professionals for the government sector. It has seen the success of many students who have learnt about the important of H&S and have gone on to work in H&S roles across the sector to make a change to the whole of Aotearoa's health and wellbeing.
---
The demand for H&S professionals in New Zealand is high, with an estimated shortage of 2,100 health and safety professionals over the next few years. There is a huge range of career opportunities in this profession!
---
What we offer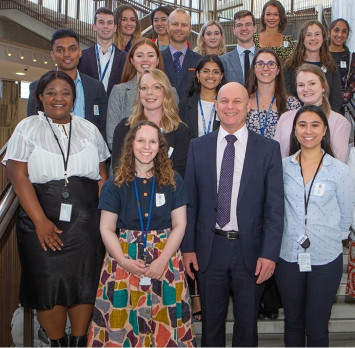 Our internship programme is three months long. Successful applicants will:


Gain an understanding of why health, safety and wellbeing is important and the wide array of areas it covers in government.
Be paid! Our interns are employed by a government agency in their health, safety, and wellbeing team.
Contribute to valuable pieces of work in a diverse and interesting organisation.
We'll help you build a professional network.
---
"We have hosted interns for the entirety of the programme. They have each, in their own way, added value to the work we undertake and the insights that we gain. They bring a fresh perspective, a glimpse into the future of leading a culture of wellbeing and safety and enrich our experiences as much as we enjoy showing them the scope of our work here at Customs. We thoroughly recommend joining the host- an- intern team and appeal to you to support the next generation of those who care deeply about this area and want to make a tangible difference."
- Rachael Mason, Manager of Health, Safety and Wellbeing at Customs New Zealand
---
Who should apply?
We are looking for people who are enthusiastic, motivated, and eager to learn about Health, Safety and Wellbeing.
You must be studying full time in New Zealand for a diploma or undergraduate degree in health science, health and safety, global health, psychology, or human resources.


You need to be in you moving into your fourth/final year of undergraduate study or graduating, as we want to have students who have completed papers in a related area of study to health, safety, and wellbeing.


Who are genuinely interested in starting a career in Health, Safety and Wellbeing Profession. Have great work ethic and communication skills.


You'll need to be available to work full time from 21 November to 17 February 2023 (excluding the Christmas/new year holidays) for upto the duration of 14 week programme.
---
Application process

Stage 1
Online Application - Sending through your CV and Cover letter
Stage 2
Online video interview - you will be asked a few questions under timed conditions to help us understand more about you and your interest in the internship programme, agencies selected and H&S
Stage 3
Selection - In person or online interview/assessment centre which may be used for high volumes of candidates)
Stage 4
Preferred candidates selected, and reference checks completed by each agency. Any travel and relocation expenses are at the candidates cost.
---
Listen to what our past Interns have to say about the programme.
| | | | | | |
| --- | --- | --- | --- | --- | --- |
| 2022/2023 Summer Interns - Why You Must Apply? | | 2021/2022 Summer Interns -Why you will be working on? | | 2020/2021 Summer Interns - What's in it for you? | |
| | | | | | |
| 2019/2020 Summer Interns - What we've learnt. | | 2018/2019 Summer Interns - Sharing our insights. | | 2017/2018 GHSL Summer Interns - One year on! | |
| | | | | | |