Positive Workplace Cultures
Phase One: 2019-2022
On 20 August 2019, the Public Services Commissioner issued model standards on Positive and Safe Workplaces. These outline his minimum expectations for staff and organisations in the State services to ensure positive and safe workplaces.
Alongside this, the Commissioner asked two chief executives, Ray Smith and Rebecca Kitteridge to co-lead a system-wide programme to support agencies to go beyond the minimum expectations to create positive and thriving workplace cultures. In December 2019, the Positive Workplace Cultures programme was launched and the Agency Planning Workbook was released.
The Agency Planning Workbook introduces an organisational change framework and questions to work through to help identify the levers for change that might be used in your agency. It allows agencies to also reflect on the existing programmes and initiatives that contribute to a positive workplace culture, building on the Positive & Safe Workplaces Model Standards.
Phase Two: Plan to 2024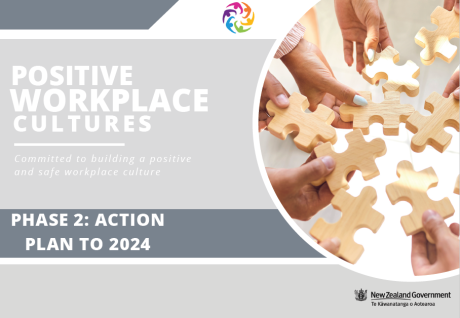 The Positive Workplace Cultures programme is excited to release Phase Two of the programme. During the COVID-19 period, the Positive Workplace Cultures (PWC) project team utilised the time to engage with agencies to thoroughly identify and understand the areas where the programme can best provide support. We identified a wide range of great work in this space and have been able to streamline the programme, focussing on where it can best provide value going forward. The Plan to 2024 was finalised following comprehensive consultation and will begin delivery from October 2023 through 2024.