Strategy & work programme
Four year plan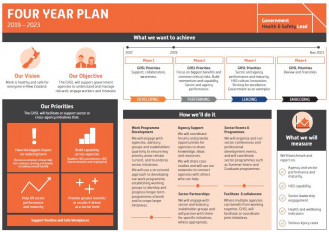 [PDF, 45 KB]
The GHSL developed the four year plan in 2019. This was developed through significant consultation and sector feedback via an independent review by Deloitte. The plan initiated a more focused approach, with the GHSL transitioning towards more specific priority areas that would create greater benefits and help lift sector and agency performance.
Work Programme
The GHSL reviews and sets a new programme of work each year which aligns to our four year plan. Here are our work programmes from 2018 - 2021.
Updates
Updates and year-end reports from the Government Health and Safety Lead can be found here.