A Ministerial Launch 2022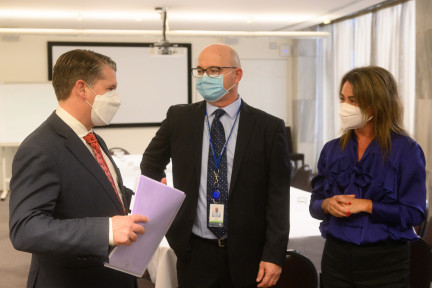 Minister Wood, Lance Goodall, GHSL and Selena Armstrong, NZISM
Hon. Minister Wood, Workplace Relations and Safety, officially launched the Health and Safety Generalists Career Pathway. The launch was well attended by representatives from Health and Safety Association of New Zealand (HASANZ), WorkSafe, New Zealand Institute of Safety Management, New Zealand Safety Council, Te Kawa Mataaho and Van Schaik Health Solutions.
The Health and Safety Generalists Career Pathway is a first of many projects that HASANZ to the industry to recruit and retain many more H&S professionals required across New Zealand over the next ten years.
The guides will provide clear and practical guidance for employers and individuals to promote discussion around the benefits of having qualified professionals operating as H&S Generalist. As well as how to identify what a health and safety generalist does, and the core skills and attributes needed for individuals to be successful. It also clarifies what good looks like across different roles.
The minister commented that the guides were a practical and useful resource which were a testament to how collaboration can work across both public and privates sectors and New Zealand's Health and Safety Regulators for the benefit of New Zealand.
"The time is right for all of us to take a second look at health and safety. We knew that not only we need to fill the growing need for more health and safety professionals over the next ten years, but also support those recruiting for health and safety roles to match the right people to the roles" says Bronwyn Presland, Chief Executive of HASANZ.