Health and Safety Rep Knowledge Wheel - New Zealand Institute of Safety Management

The New Zealand Institute of Safety Management (NZISM) are the membership association for the Health and Safety Profession in Aotearoa. They have recently released resources to support the development of Health and Safety Representatives (HSRs).
There is no expectation that you will know this content when you start in your role. However, over time, through training courses, coaching from health and safety professionals, and reading through these resources, along with time to learn in the role, you can develop this knowledge and these skills, and build on the attributes you already have.
By developing these skills, you will not only set yourself up for success as an HSR, but you are building the groundwork for a career in health and safety if that is what you wish to do. Many of the attributes outlined in the framework are focused on developing leadership skills, so no matter where you choose to go in your career, this set of skills will help get you there.
The HSR Knowledge Wheel
The HSR Knowledge Wheel outlines all the knowledge, skills and attributes that can be developed as you progress through your role as an HSR to set you up for success. The Guidebook gives you a free kick start on your learning journey, providing all the awareness you need across the subjects.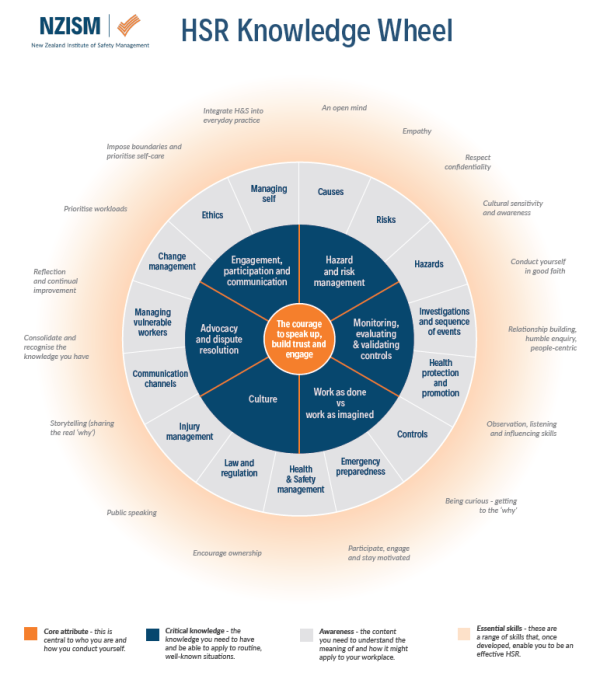 The HSRs Framework
The framework can also be used to support your conversations about your training and development needs with your managers. NZISM recommends focusing on training that includes the topics identified as critical knowledge areas first. Getting training in these subjects is important to ensure you know enough to be able to engage successfully as an HSR.
There is no expectation that every HSR will engage in this learning journey. But for those of you who want to develop your knowledge in this space, this is the subject matter that will best support you to be most effective in your role.
Where can I find the HSR Knowledge Wheel and Guidebook?
The HSR Knowledge Wheel and Guidebook can be downloaded from REP-CENTRAL - a dedicated space for HSRs on the NZISM website https://www.nzism.org/hsr-repcentral/.(external link) You'll also find links to a range of useful content and additional tools that can support you in your role.