Ray Smith, Health and Safety Leader of the Year
Ray Smith, Chief Executive Department of Corrections and Government Health and Safety Lead, was awarded Leader of the Year at the NZ Workplace Health and Safety Awards on 30 May.
The awards are organised by Thomson Reuters, publisher of Safeguard magazine, and supported by WorkSafe New Zealand. They recognise organisations and individuals who have made a significant contribution to health, safety, security and wellbeing in the workplace and across New Zealand.
The Leader of the Year award is sponsored by the Business Leaders' Health and Safety Forum, and acknowledges outstanding commitment and personal dedication to health and safety.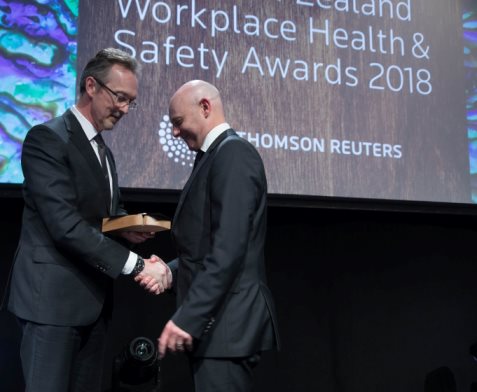 Ray, who has been Chief Executive of Corrections since 2010, was ecstatic to accept the award on behalf of the 9,000 dedicated men and women at the department who work everyday to keep the New Zealand public, their colleagues and the people in their care, safe.
"This award recognises the hard work we all put in everyday in often very challenging environments and situations," says Ray.
Over the last eight years, Corrections has taken a multi-pronged approach to lift its health and safety performance, including the development of tactical training for prison and community staff, the strengthening of governance structures and resources.
"We have worked extremely hard to raise our efforts in health, safety and wellbeing across the department, and I couldn't have done it without the support and willingness of all my staff to make a real difference."
In August 2017, Ray was appointed Government Health and Safety Lead by the State Services Commissioner.
Since the Government Health and Safety Lead (GHSL) was established, Ray has rapidly pulled together an ambitious work programme that touches on seven of the sector's biggest needs and priorities. The GHSL is increasingly recognised by key stakeholders such as WorkSafe NZ, HASANZ, unions, and the Business Leaders' Health and Safety Forum for the progress that has been achieved in uniting the public service and improving health and safety performance for the sector.
The judges recognised both Ray's dedication to improving health and safety performance at the Department of Corrections, and his appointment by the State Services Commissioner as Government Health and Safety Lead as evidence of his success as a health and safety leader. The panel acknowledged his highly collaborative approach, involving more than 30 public and state sector agencies, looks to transform the government sector into a leading force for better health and safety in New Zealand.