Health and Safety Representatives' Conference a success
On 4 April, nearly 600 health and safety representatives, health and safety practitioners and senior leaders from 37 public service and state sector agencies attended the second annual Health and Safety Representatives' Conference.
The theme of this year's conference was 'making a difference'. A range of presentations and panel sessions covered the challenges health and safety representatives (HSRs) can face in their role, and how they can engage with their colleagues and leadership teams to overcome these challenges.
Hon Iain Lees-Galloway, Minister for Workplace Relations and Safety, opened the conference, speaking on the importance the Government's 10 year Health and Safety at Work Strategy places on the role of HSRs.
The Minister then awarded six HSRs with a Health and Safety Representative Finalist Award, recognising their outstanding work as HSRs. The six winners were chosen by an independent judging panel from over forty nominees, put forward by their peers.
The six finalist award winners were:
Cara Jonkers, New Zealand Transport Agency
Maria Fidow, Ministry of Justice
Frans De Groot, Department of Corrections
Summer Liu, Ministry of Business, Innovation and Employment
Louize Beniston, Ministry for Primary Industries
Constable Nikki Mapp, New Zealand Police
Darren Evans, General Manager People, Safety & Medical and Brent Armitage, People Safety Adviser from Air New Zealand, spoke about the journey Air New Zealand has gone on to elevate the role of HSR, and how they are now leading the way in high performance engagement.
Phil Parkes, Chief Operating Officer, WorkSafe New Zealand, then led a discussion with a panel of subject matter experts on how HSR can overcome obstacles in their role. The session covered topics such as how to communicate your message, how to work with different people and unions, and how to be innovative and bold.
Dr Tom Mulholland, ER Doctor and founder of KYND Wellness was the keynote speaker at the conference. Dr Tom spoke about how our health and wellbeing directly impacts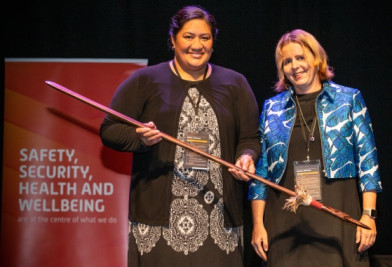 our safety at work, and talked about his work developing the KYND Wellness App, which can help you track your health and metal wellbeing.
To close the conference, Nicole Rosie, Chief Executive WorkSafe New Zealand presented one of the six finalists with the overall Health and Safety Representative of the Year Award. Maria Fidow from the Ministry of Justice, was awarded the honour for her work championing health and wellness in her Christchurch office.
The Government Health and Safety Lead also launched a new resource aimed at supporting HSRs at the conference, a printable version of which is available now.