New state sector mental health resources
Three resources on mental health and wellbeing have been launched across the state sector.
The resources aim to support state sector employees to maintain positive mental health and overall wellbeing. A guide has also been developed for people leaders to help them understand mental health in a workplace setting, and provide advice and resources on how to support their teams in this important area.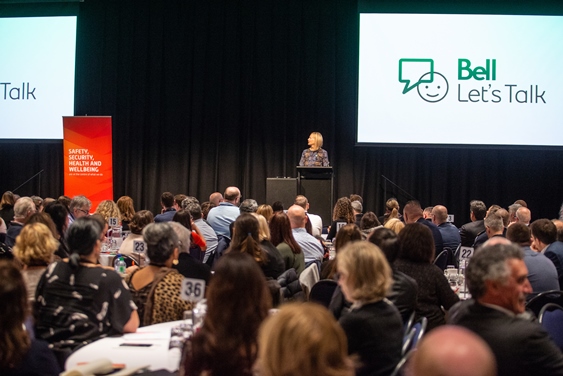 The resources were launched on 28 August to over 440 state sector employees, representing 71 agencies.
Mary Deacon, Chair of Bell Canada's mental health initiative 'Let's Talk', was the keynote speaker (see image on right). Mary spoke about the importance of workplace support for mental health and how Bell Canada has been successful in bringing this issue into the wider community.
Nicole Rosie, Chief Executive WorkSafe New Zealand, and Shaun Robinson, Chief Executive Mental Health Foundation of New Zealand, also spoke about the risk ill mental health can have on the workplace, and resources available to New Zealanders.
Ray Smith, Government Health and Safety Lead, said that the state sector was often seen as lagging behind in addressing mental health issues, so the time was right to get together and plan a way forward.
"We have developed these resources with the support of the NZDF, the Mental Health Foundation, the Health Promotion Agency and the Ministry of Health, to be a valuable tool in not only building awareness of mental health but also reducing the stigma of mental health in the workplace.
"An important part of the conference was making the sector aware of the resources out there they can draw on, and providing people an opportunity to make a plan for how their agencies can leverage these resources for Mental Health Awareness Week and beyond."
View and download the mental health and wellbeing resources
View the presentations from the Mental Health and Wellbeing Conference
Check out the Stuff NZ article about the conference(external link)