First field trip a success
The Department of Corrections hosted the first of a series of 'field trips' on 6 November.
Around 40 attendees from the state sector were shown around the National Learning Centre in Upper Hutt.
Chris Jones, General Manager Safety & Wellbeing, and Neil Beales, Chief Custodial Officer, spoke about Corrections' portfolio, its risk profile (with 12 critical risks), and how those risks are managed.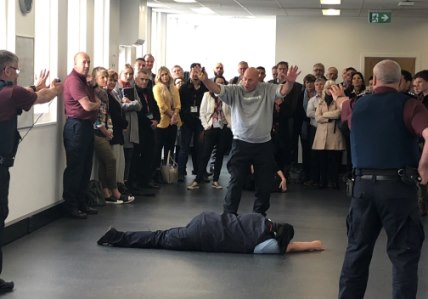 With 17 Corrections managed prisons and 148 Community Corrections sites, the department has care of over 10,000 prisoners and 30,000 people on community sentence, working alongside 9,000 staff and over 1,700 registered volunteers. Every day thousands of interactions take place between staff, members of the public, and contractors. In addition to the obvious risk of offender violence, Corrections' diverse risk profile includes construction training sites, farms and machinery, a large vehicle fleet, buildings, dogs, and proximity to major hazards.
After the lunch, the tactical training team demonstrated de-escalation and control and restraint scenarios that staff might face, and how staff are trained to deal with these situations if they arise.
Feedback from attendees was extremely positive, and we are in the process of confirming the next field trip for early 2019.